"Can I drive your car when I turn 16?"
"I want to be a teacher when I grow up."
"When I get to the NHL I want to play for the Leafs."
This is the world of most young kids growing up. It's natural and for most kids these things are all possible. But what if you're developmentally challenged. You have autism, or downs syndrome, or aspergers, or some other developmental challenge… You ask those same questions, you have those same dreams. But when the time comes you might have other questions
"Why can't I get a driver's license?"
"Why can't I go to work?"
"Why can't I play on my brother's team?"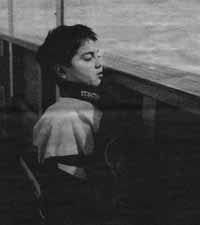 Then you realize that you are in a different world. And you are always looking in. You live in this world but you're not always really a part of it. Courtesy of Erin Riley
Society has changed a great deal in how it deals with the developmentally challenged. Our kids are now integrated into regular classrooms in most cases. They get jobs. They even get married and have kids. Will they ever play in the NHL? We can all dream. But can they play on their brothers or sisters hockey team. In most cases the answer is no. And even if they were allowed to, they would almost certainly not be able to compete.
Minor hockey leagues are divided up into age categories. It is up to the athlete to keep up in ability. And the rules do not allow them to play in a lower age group that might be more appropriate for their abilities . The developmentally challenged cannot flourish under such a system. They learn and develop at their own pace, but they do learn and they do develop. They simply need the structure to do so. And they usually have the one thing that any other athlete has. Desire. Desire to play. Desire to succeed. Desire even to make it to the NHL.
That's where Special Hockey comes in. There are no age groups. There are no tryouts. They don't even need to be able to skate. All they need is what they already have…desire. They will learn how to skate, how to hold a stick, how to handle a puck, how to make a pass, how to take a shot, how to make a save. Some may learn by the end of their first season, others may take years. What they will all do immediately is participate…at every practice and at every game. That's because they don't have to meet anyone else's expectations, only their own. Special Hockey allows the developmentally challenged to achieve their own goals on their own schedule.
They will learn about teamwork. They will gain self-confidence and self esteem. They will learn from their coaches, but more importantly they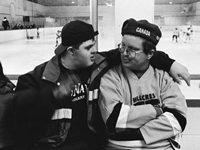 will learn from their peers. They will see and imitate the better players. A seven-year-old may play on the same line as a seventeen-year-old or even 27-year-old. They will be matched by ability but the coach may also include a better player as a positive role model. And these more experienced players look forward to be being mentors for the "rookies". This may mean laying back a bit to let a "rookie" skate with the puck without being checked. Or it may mean a goalie may "not try too hard" to stop a shot. And they love doing this, because they too were "rookies" once and they too like seeing the smiles as much as we all do.
The rules of the game are also modified. There is no icing, no offside and definitely no body checking. Male and female, young and old all play together. Coaches are allowed on the ice during games to assist players that need it. If one teams line has a player with very low skills then they will be allowed to add an extra player to compensate. But they all still participate.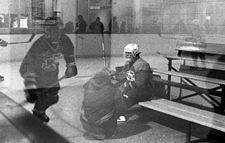 There are SHI clubs throughout North America and Europe and while their approach or techniques may vary a little from team to team, the basic concept remains the same. Some may have as few as a half dozen players while some are much larger organizations and have several complete teams. Much of the time teams play within their own organization with a lot emphasis placed on the players' own development. But they also play against other nearby teams throughout the season wherever this is possible. These are all 'exhibition' games. There are no standings and no championships. Then all the teams come together for the SHI annual tournament. Hosted by a different team every year it is 4 days of hockey, special events and just plain fun.
If this approach to hockey is what you are looking for, then simply contact the SHI member club in your area to find out more. If there is no team close enough to you then consider starting a program in your own community. Remember that the first program started with just two players.
If you have any questions about Special Hockey International please contact the SHI President.