North Bay North Stars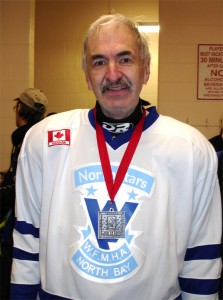 Terry Larivee plays hockey for the North Bay North Stars. He is one of the founding members of the team and has played for three years. On Saturday, April 17th, 2010 Terry scored his very first goal while attending the SHI Jim Gregory Friendship Tournament in Orangeville.
Terry celebrated his 65th birthday on January 13th of this year.
Terry was born in North Bay and hasn't lived anywhere else. As a youngster he was not allowed to play hockey due to his special condition and a broken leg and hip. He eventually learned how to skate but his first attempt at hockey wasn't until he joined the North Stars at age 62. In addition to his special needs, Terry wears hearing aids, wears glasses, suffers from epilepsy and has Type 1 diabetes.
 Terry is well liked by his team mates and is a role model for the other players.
At the 2010 banquet in Orangeville, Terry was very moved by the ovation he received from his friends when SHI President Michael Liotta announced his first goal.
On Monday morning, back in North Bay, Terry was seen about town proudly wearing his SHI 'Gold Medal'.
Terry is already making plans for the 2010/2011 season and looks forward to representing North Bay next year in Boston.