SHI Annual Tournament
The annual SHI tournament brings together teams from across North America and Europe once a year for a major gathering, attracting more than 70 teams. This tournament traditionally alternates between a Canadian and American City, but has also been hosted in London, England. The SHI tournament is sanctioned by the host team's governing body (ie Hockey Canada, USA Hockey, or other IIHF affiliated governing body) but it is not a traditional tournament. Special hockey is non-contact and non-competitive. There are no elimination rounds, no one team is crowned champion. In our eyes they are all champions. Every team plays 4 games and every player on every team plays equally.
Althou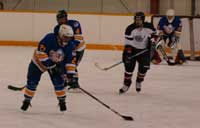 gh the players do play their hardest and they are all trying to win, the spirit of this tournament is not about competition. It is about participation and fair play. If one team can't field a full roster another team will lend them players. If a team's only goalie is hurt or otherwise unable to play, another team will lend them one. Words alone cannot describe it. You have to see it to truly understand and you will never feel the same again about the developmentally challenged or even about hockey.
But this tournament is about more than just hockey. For these athletes it is like their own mini Olympics. And just like the Olympics, they have their own opening ceremonies complete with the parade of athletes. And like the Olympics the social aspects of this tournament are also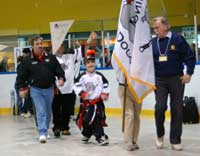 important. Starting with the opening "Meet and Greet" and ending the tournament banquet.
At the "Meet and Greet" everyone gets together to see old friends and to make new ones. From across the continent they come together to catch up on they have been doing the past year and discuss plans for the future. The players mingle, get re-acquainted with old friends and make new ones. And talk hockey.
The opening ceremonies provide a bit of pageantry and grandeur. Civic dignitaries are usually on hand to open the event along with a sports celebrity or two. The National Guard or RCMP colour guard may be on hand adding even more spectacle. And then, with their heads held high, the athletes march in. holding their team banner and turning to have their pictures taken, smiling from ear to ear.
Then after the last game is played and those aromatic hockey bags finally put away, it is time for the tournament banquet. Dinner is eaten, medals are presented to every single athlete and then it is party time. Just like at the Olympics, the closing event is informal. And if you think that these athletes are tired from two days of hockey, think again. They are dancing and partying all night. They still have the energy and they still have the desire.